Ed Bertschy's Paper Steam Engine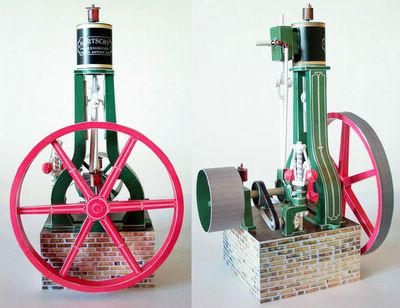 This free card model is offered by Bertschy's Paper Models, USA. It is based on a CAD drawing of a Riches and Watts nominal 2˝ horsepower vertical A-frame double acting simple slide-valve steam engine circa 1870-75. The CAD drawing was by Richard Adamek; the drawing is available as part of Richard's Old Engine House website. The model is fully working, and can be run on a puff of air.
It used to be available on Ed's website at:
http://www.home.earthlink.net/~eellbee/steam2.html
With the disappearance of his website from the Internet, I.S.S.E.S. is offering it as a free service to the steam engine and modeling community. (Ed had placed it in the public domain and encouraged others to use, distribute, modify, add to and otherwise share it.)
Warning: To view and print out this model, you must have a copy of Adobe Acrobat Reader installed on your computer.
To download a free copy of Adobe Acrobat Reader Click Here
The following instruction sheets can be printed on plain paper
Version 2 Assembly Instructions
These parts sheets should be printed on cardstock; Ed recommended Classic Crest Cover Solar White Super Smooth cover stock. Sub 80/216g/m2.
These parts sheets should be printed on preminum paper. Ed used Hammermill premium laser paper for color laser printers; I used HP Brochure and Flyer Paper on my inkjet printer.
If you are interested in learning more about stationary steam engines, then please consider becoming a member of I.S.S.E.S..

Return to Site Map